Fifteen students who were selected in a nationwide competition will deliver TED-Ed Club presentations at the Mansion House on Tuesday, January 22, as part of the Houses of the Oireachtas programme commemorating the 100th anniversary of the First Dáil.
The students, all aged 16 to 17, have spent many hours preparing their presentations as part of 13 TED-Ed Club lessons, formally known as explorations, under the guidance of their teachers and the Parliamentary Education Officer, Conor Reale.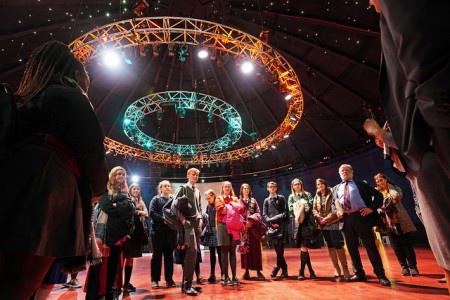 The presentations begin at 1 p.m. in the Round Room of the Mansion House, the venue for the first public sitting of Dáil Éireann on 21 January 1919.

Following the event, the students' presentations will be available for viewing on the TED-Ed Clubs channel on YouTube and on Oireachtas TV.

Their chosen topics include the power of democracy, the impact of social media and mobile phones, challenges in mental health services, coping with stress, sexual identity, and the relevance of education in the real world. Two speakers will make their presentations in Irish.

"The calibre of the students' presentations is simply outstanding and will be inspiring to all those who hear them. These are brave, empathetic, intelligent and insightful young people with powerful messages," said Ceann Comhairle Seán Ó Fearghaíl TD. "There can be no better way to commemorate the first hundred years of Dáil Éireann than to highlight voices of future leadership in our country as these students surely represent."

The students are:
Niamh Coleman, St. Angela's Secondary School, Waterford
Topic: Is our education one size fits all?

Emma Connolly, St. Vincent's Secondary School, Dundalk
Topic: The mental, physical and emotional health benefits of music

Richard Crotty, Kilkenny College, Kilkenny
Topic: Mental health challenges for today's youth

Ben Doherty, Maynooth Community College, Maynooth, Co. Kildare
Topic: Stress from the Leaving Cert points race

Fufu Emeordi, Kilkenny College, Kilkenny
Topic: Belonging

Ciarán Farrell, St. Benildus College, Stillorgan, Co. Dublin
Topic: The fight against climate change

Kate Feehily, Mount Sackville Secondary School, Chapelizod, Dublin 20
Topic: Sexual confusion among today's youth

Caoimhe Gibbons, Our Lady's Secondary School, Castleblayney, Co. Monaghan
Topic: The power of one vote, your vote

Niamh Henry, Our Lady's Bower Secondary School, Athlone, Co. Westmeath
Topic: Bullying, mirror neurons, empathy and fairy tales

Alex Kennedy, Larkin Community College, Dublin 1
Topic: The power of labels

Ava Murray, St. Clare's Comprehensive School, Manorhamilton, Co. Leitrim
Topic: Does school prepare us for life in the modern world?

Megan Ní Laighin, Gaelcholáiste Luimnigh, Limerick
Topic: Why alcohol is a danger to our society

Céití Ní Mhathúna, Laurel Hill Coláiste, Limerick
Topic: Where has the pride in Irish gone?

Jenny Salmon, Loreto Secondary School, Bray, Co. Wicklow
Topic: Is there blood on your mobile phone?

Tarah Sherlock, St. Louis Secondary School, Monaghan
Topic: Is social media taking over our lives?
Media are welcome to download and publish free, high-resolution images of the 15 students via the Oireachtas Flickr page here.

Learn more about the Oireachtas TED-Ed Club here.

See the TED-Ed Student Talks channel on YouTube here.